Iceland Journal Day 1 (May 16, 2017): After flying through Frankfurt (with an overnight spent walking the Rhine in Mainz), we landed in Iceland mid-afternoon, picked up our rental car, and hit the local grocery store (Bonus) to get some essentials. The goal today was to hit the road and gain some ground toward tomorrow's detestation, the remote Westfjords.
We were still hoping to see something fun though, so once outside of busy Reykjavik we drove the long-way around the recently built toll-tunnel that cuts under Hvalfjörður to check out the waterfall Glymur. Once we arrived at the fall's parking area however, we discovered it is a significant hike just see the falls from a distance, let alone get to the top of it. As it was already evening, and we were feeling the effects of all the travel, we opted to skip the hike and press on to our first hotel in Borgarnes.
After a little rest, and some pizza for dinner at La Colina Pizzeria, we did a bit of sight-seeing before dark, finding a picturesque pasture with beautiful Icelandic horses to cap our evening.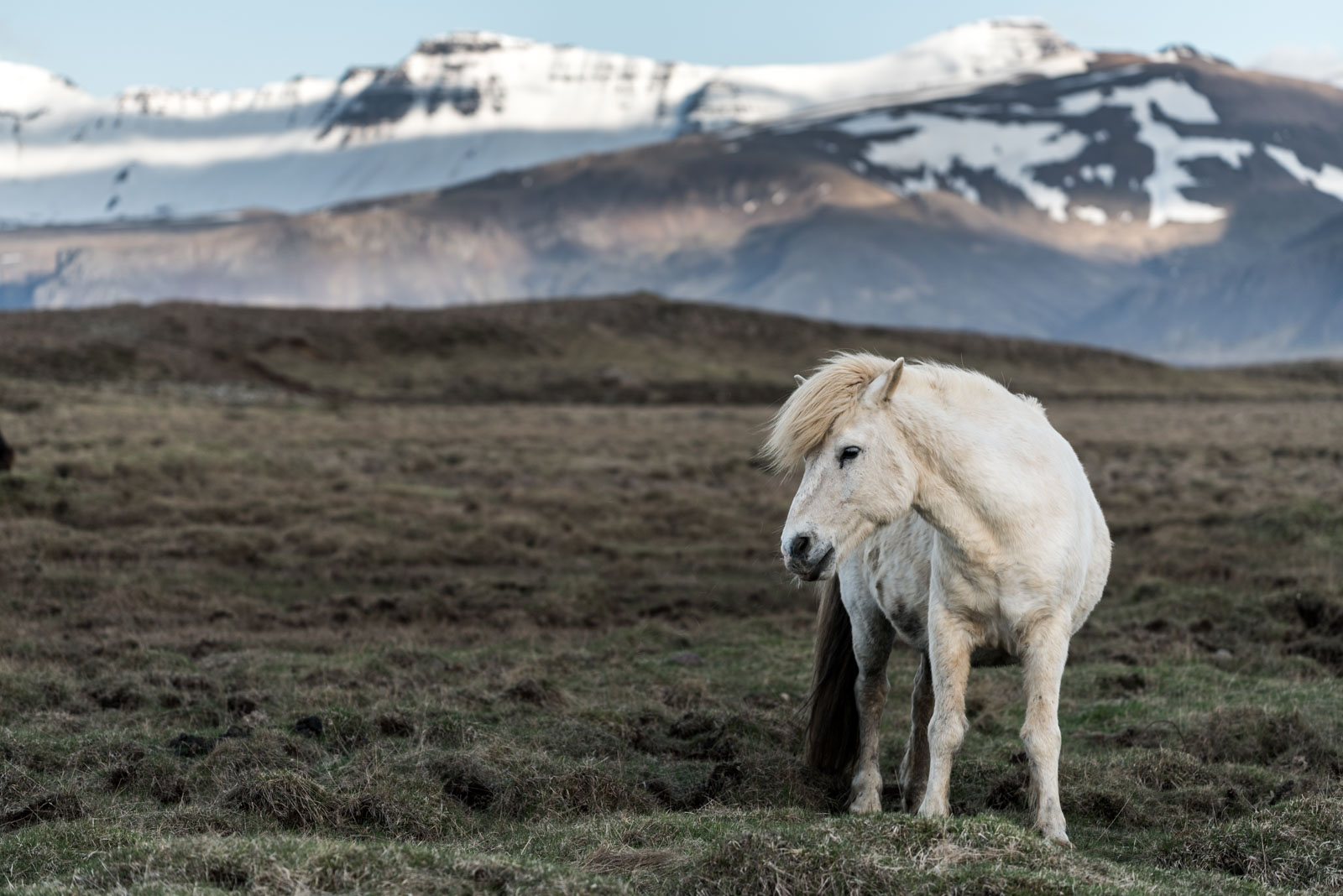 Iceland Journal Day 2 (May 17, 2017): Rested and ready for the long haul up to the Westfjords, we made a quick stop at a popular bakery in Borgarnes called Geirabakari Kaffihus. They have great coffee and pastries to go, as well as a beautiful view of the bay on which it is situated.
The drive to Ísafjörður goes over Hvannahlíðarfjall, which is a low mountain pass to north side of the Westfjords. On this day, we experienced 70mph gusts of wind blowing snow sideways across the frozen landscape. It was intense driving across the barren landscape with limited visibility, and it had us wondering what winter must be like up here since it is already May!
Once down to sea level again, the conditions improved and we were fortunate enough to spot seals on the rocks within Skötufjörður. We read later this is a popular spot for harbor seals to hang out. Just up the road is the Arctic Fox Center. We popped in and were able to see a fox they have in captivity, although he was napping and wasn't interested in getting up to greet us!
The road that snakes in and out of the fjords on the north cost of the Westfjords, heading to Ísafjörður, is remote, beautiful, and nearly completely devoid of any other cars, people, or buildings.  It really feels like you are snaking across the top of the world!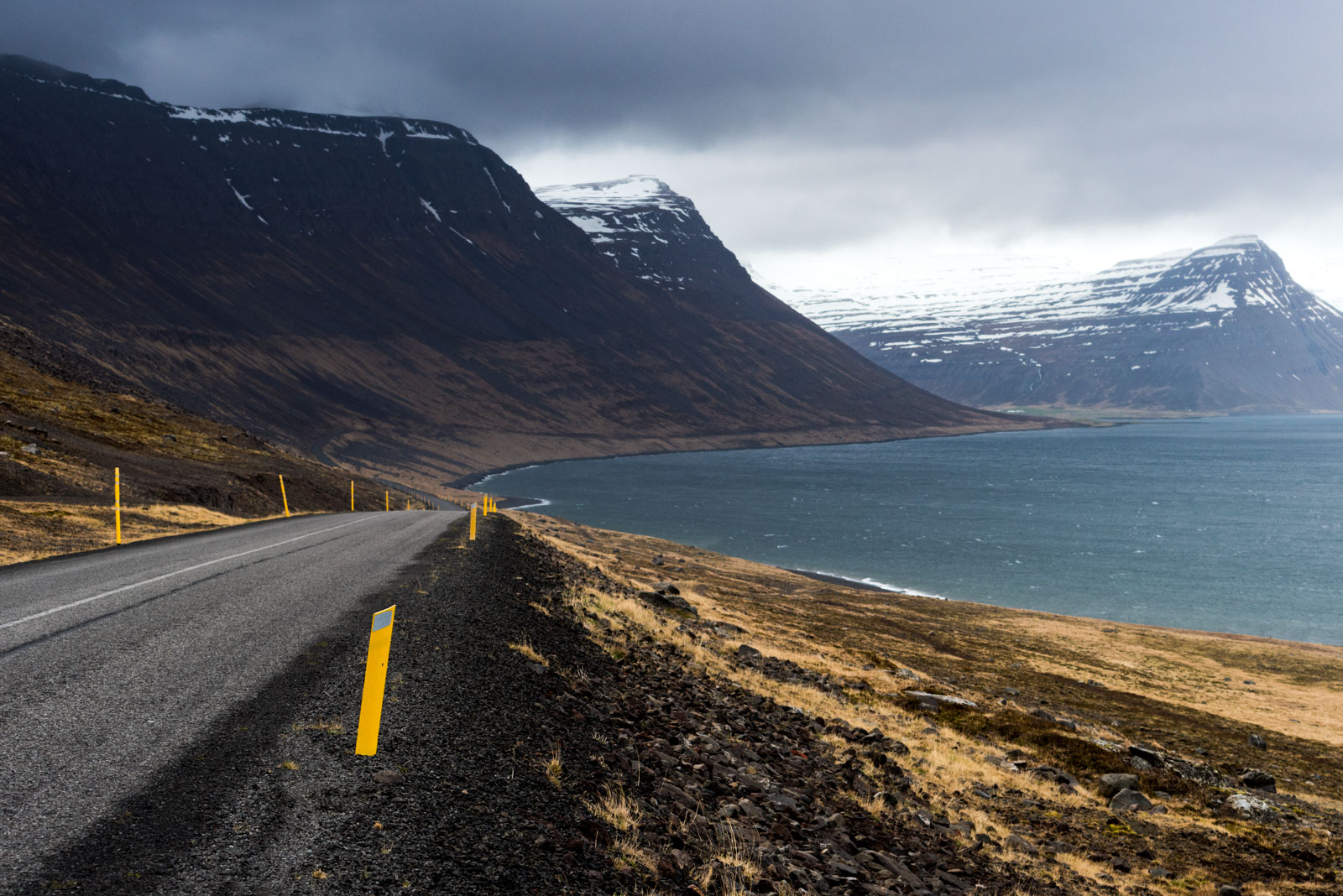 We wrapped up our massive driving day with an epic dinner at Tjöruhúsið: an intimate, family style restaurant in the oldest still-standing timber structure in all of Iceland.  Nearly ten courses of various fish are served, right out of the skillet onto your plate, along with sides and an insanely good fish soup.  We were a bit unsure of what to expect but it ended up being one of our best-ever dining experiences!
After dinner, we asked the chef's son, who was our server and host as well, if there were good places to go hiking in the area.  He explained that while there was good hiking, the current conditions were not good as rock avalanches are very common when it rains, and it had been raining for days.  He encouraged us NOT to go hiking this evening as we 'might' die.  We took his advice and strolled around the small fishing port of Ísafjörður instead.
Here is the Day 1-2 route we drove… already raked up 543 km!: